Master of Education
Greetings from Fayetteville!
We are now accepting applications for the master's of Higher Education degree.
The University of Arkansas Master's in Higher Education Offers

| | |
| --- | --- |
| Two-year program consisting of 36 credit hours | Three start dates: Fall, Spring, Summer |
| Core courses and flexible electives | Internships integrated into the degree program |
| GRE not required to apply | Graduate assistantships with competitive compensation available |
Professional Preparation
This Master of Education (M.Ed.) degree provides professional preparation for administration positions in two-year and four-year postsecondary institutions, including community colleges and technical colleges, liberal arts colleges, and four-year colleges and universities. The program welcomes either full-time or part-time students. A number of them work full time on a college campus while pursuing their degrees. Others either have a graduate assistantship in on campus or work part time. By the way, the Division of Student Affairs has information on Graduate Assistantship Positions.
Connecting Scholarship and Practice
The M.Ed. curriculum has been developed to equip students with the knowledge and skills necessary for leadership in higher education and student affairs. Students have the opportunity to work closely with faculty and classmates during hands-on class projects while also completing practice-based experiences at institutions of higher education. Details are in the Program of Study (PDF).
Great University, Beautiful Location
Founded in 1871, the University of Arkansas is located in Fayetteville, routinely considered among the country's best places to live and in the heart of the Ozark Mountains. Some of the nation's best outdoor amenities and most spectacular trails are within a short drive of campus. Fayetteville, one of several cities comprising the growing metro area of Northwest Arkansas, is served by the busy Northwest Arkansas Regional Airport (XNA) and a reasonable car ride to many major cities—Dallas, Kansas City, Little Rock, Oklahoma City, St. Louis, Tulsa, and Wichita.
Successful Placement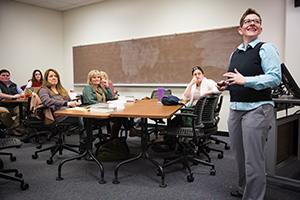 Depending upon prior experience, program graduates typically seek careers at the director or assistant director level in a variety of specialty areas. Recent alumni have secured professional positions in a variety of areas of higher education, including academic advising, admissions, athletics, civic engagement, fraternity/sorority life, international studies, residence life, student activities, and student conduct. Since 2012, MEd graduates have accepted jobs at institutions in Arizona, Arkansas, Florida, Georgia, Illinois, Iowa, Kansas, Kentucky, Louisiana, Missouri, New York, Oklahoma, Pennsylvania, Tennessee, Texas, South Carolina and Washington.
Financial Support
Most students either have a graduate assistantship in an office on campus or work full time in higher education. Generally, graduate assistantships provide a tuition waiver (both in-state and out-of-state) and a competitive monthly stipend; some assistantships also provide additional benefits such as parking permits, housing, meal plans, and professional development money. The Graduate School's Funding Your Degree section discusses other opportunities.
Involvement Opportunities
Many events and leadership opportunities are planned by our student organization, The Higher Education Organization (THEO). Our program is also home to the Theta Chapter of Chi Sigma Alpha Student Affairs Honor Society International.
Leave Your Mark
Our master's students have many opportunities to leave their mark on campus. Upon graduation, they become part of a unique tradition among the nation's universities: Senior Walk, consisting of more than three miles of sidewalks crisscrossing campus that are engraved with the names of more than 170,000 graduates, dating back nearly 140 years. It's concrete proof of our commitment to students.
Find out why the University of Arkansas is a great place to call home. Apply to the Higher Education Program today!
For questions about the M.Ed. Program, contact Dr. Leslie Jo Shelton.